Stand alone or wall mounted architectural outdoor signs
Non - illuminated & Illuminated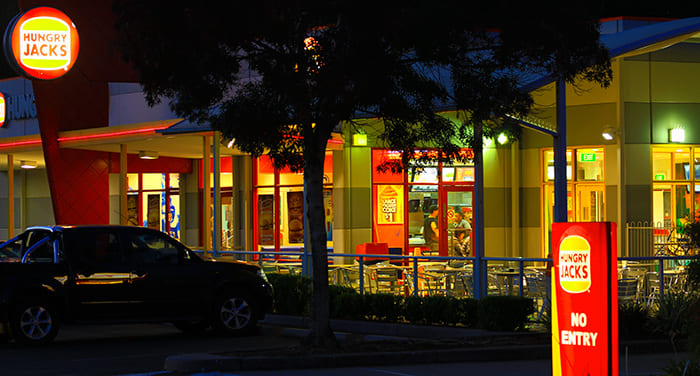 Architectural, Free Standing, Pole & High Mounted Signs
Large, bold and colourful, stand alone or wall mounted outdoor signs are a very effective advertising tool, they grab attention and create an awareness of your business. The stand alone signs come in a one or two post configuration and can accommodate one or several banners for a number of businesses. Signage materials can accommodate letter, cut outs, LED lighting, 3D signage and a vast range of materials, finishes and graphic designs used in modern day sign advertising. Uses range from touilet and exit signs through to the huge high mounted post signs similar to the Hungry jack's sign founf on the page in the Banner above and the photograph below.
Pylon signs need maintenance at regular intervals to prevent wear and tear on components and the build up of cobwebs, wasp nests and other elements which need to be removed which reduce the life of components. Pylon signs catch dirt which holds moisture which can increase corrosion. Bird droppings will stain perspex panels. General dirt accumulation and the sun will cause gradual deterioration and slowly fade leaving only dark shadows.
This type of sign can be difficult to reach and can only be accessed by the use of Boom Hire equipment. it makes sense to have repairs carried out in an efficient, correct and professional manner. Quality components are used to increase the life of your signage reducting the frequency of repairs and emergency call outs helping you cut maintenance costs.
We specialize in 3D sign sales, repair, and maintenance internal and external advertising
Call The Sydney Sign Man to discuss your ideas for a quote, for urgent repairs utilising our 24 hour emergency service.